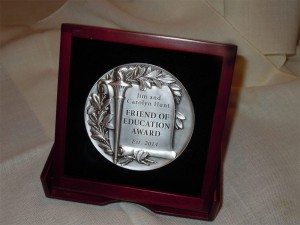 The Jim and Carolyn Hunt Friend of Education Award was established by the Wilson Education Partnership (WEP) in 2014 to thank and recognize those who make significant contributions to public education in Wilson County.  The award was announced and presented to the first honorees, Governor and Mrs. James B. Hunt, Jr., to commemorate the 25th anniversary of WEP.                                                                                                                                        
The award will be presented annually to recognize demonstrated exceptional commitment to public education. As the highest honor awarded by the Wilson Education Partnership, it is given to recipients who exemplify the vision of Jim and Carolyn Hunt to provide the best schools possible for students and teachers and to build partnerships that make a positive difference.
With the establishment of the The Hunt Award, WEP began a tradition of annually honoring those who have made significant contributions to public education in Wilson County.  As the first recipients, and namesakes for the award, Jim and Carolyn Hunt set an example for others to follow in the quest to provide the best schools possible and to nurture an array of partnerships that make positive differences in those schools for students and teachers. Subsequent recipients should also set an example in Wilson County, being a model partner whose sustaining commitment and various support levels will encourage others to give time, talents, finances, and resources to public education, proportionate to their capacity to invest.
THE HUNT AWARD HONOREES
2014 – Governor and Mrs. James B. Hunt, Jr.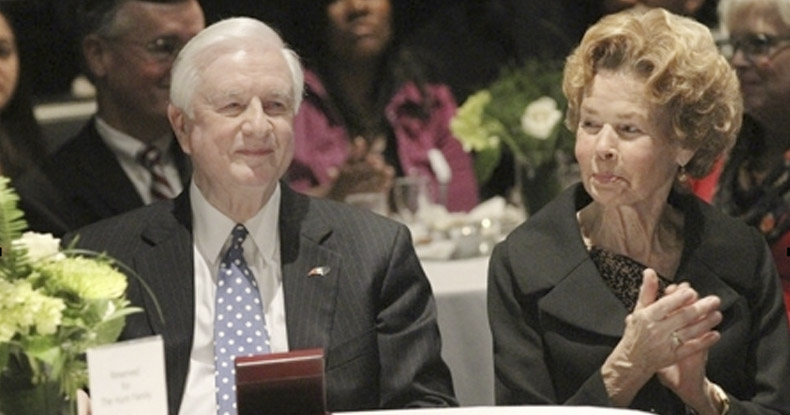 As long-time advocates and supporters for public schools, Jim and Carolyn Hunt share a deep commitment to education. They are life-long learners who understand how much positive impact really good teachers can have on students. They know that children learn more and learn best when their parents are engaged in their education. They know that volunteers, mentors, and community partners must step in to help educators. They know that appropriate local, state and national policies must be implemented to provide the best possible education for all children. The Hunts continue their engagement and support as education advocates, political leaders, school volunteers, and proud parents/grandparents of public school graduates.
2015 – BB&T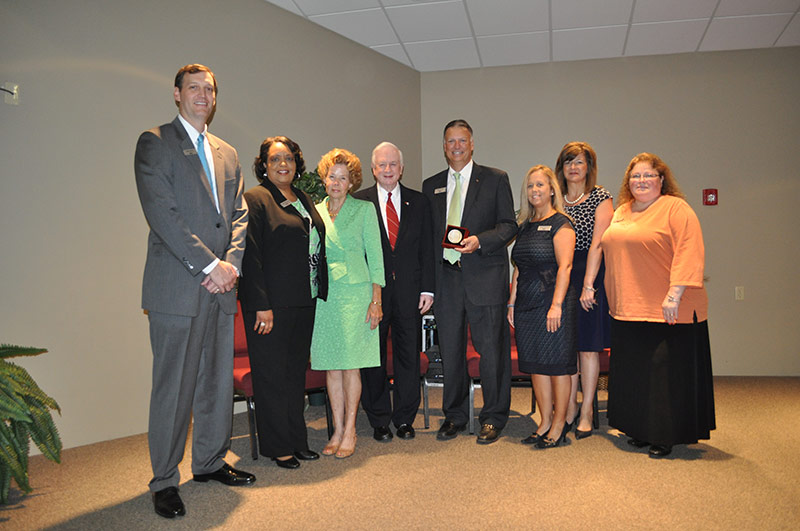 BB&T was one of the original corporate sponsors that donated $10,000 in start-up funds to establish the Wilson County Education Foundation; the bank has continued as a sustaining donor ever since. BB&T provided significant leadership to both the Ed Foundation and WEP and provided facilitators for education meetings and professional development for educators. BB&T helped establish the schools character education program with WEP as a "Saturday with AJ" movie sponsor. BB&T was the pace setter to encourage other major employers to step up, with the donation of thousands of man hours to the HOSTS program for 5 years. Additionally, the bank funded a financial literacy curriculum for schools. All schools have been the beneficiaries of more than 100 projects from BB&T's Lighthouse Project, investing significant funds and man hours into projects such as landscaping, playgrounds, walking tracks upgrades, technology upgrades, facelifts for teachers' lounges and offices, purchase and organization of classroom materials/books/equipment, organization of school spaces and direct support for students. Hundreds of backpacks filled with school supplies are donated each year for the Back-to-School Fair.
2016 – Christy Proctor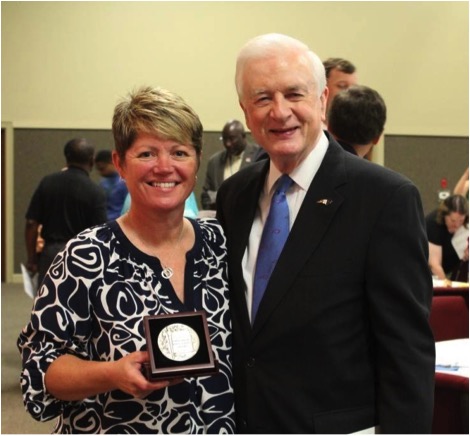 Christy Proctor, owner-operator of Chick-fil-A of Wilson, has been a long-time supporter of public education. Although she earned a degree in elementary education, her path took her away from the classroom to Chick-fil-A, where she realized that she could serve others, including students and educators. As she earned a reputation for providing, and teaching, excellent customer service, her commitment to community service expanded. Some of the significant ways that Christy Proctor supports public education in our community include: Bucks for Backpacks to provide backpacks and school supplies for needy students, sponsorship of the annual Fike & Beddingfield Reunion Game, hosting Spirit Nights for all schools, creation of the Leader Academy for high schools, development of an intern program at Barton College, charter member of the school system's Customer Service Task Force, and service to WEP as a board member and donor.
2017 – Merck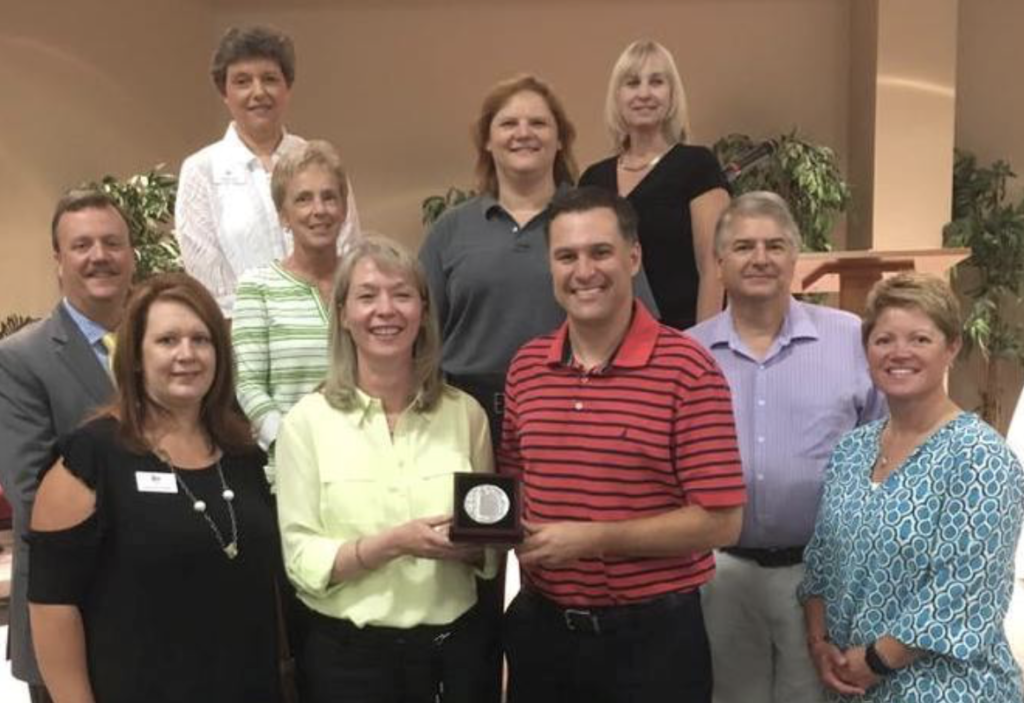 Since the Merck facility opened in Wilson in 1983, the company has been a significant partner for public education and has been a pace-setter that encouraged business engagement with our schools. Merck has invested financial contributions to support both the work of WEP and to support specific school programs.  The single largest gift ever received by WEP was a $42,000 grant from the Merck Foundation to support the Accelerated Reader program in several elementary schools.  Merck was the presenting partner for the first WCS Back-to-School Fair and has continued to provide both financial and volunteer support for that event every year.  Merck leaders have been strong advocates for public schools, pushing for important programs to benefit students, encouraging elected officials to allocate funds to improve school facilities, and rallying other businesses to step up for public schools.  Some of the programs supported by Merck include HOSTS, Career Days, science labs/programs, and work-based learning experiences for both students and teachers.