21 Oct

Teams Use "THE SPELLING FORCE" to Raise Funds for Schools

A team from the Wilson Early College Academy (WECA) captured the winning trophy and the title of "best Jedi spellers in the Galaxy of Wilson" by wielding their word powers at the 22nd annual WEP Adult Spelling Bee held at Hunt High School on October 4.

Forty-six teams from schools, businesses, community organizations and civic clubs participated in the fun-filled event that paid homage to the "Star Wars'" films with a STAR WORDS theme. Participants and spectators enjoyed a photo booth with props, themed decorations and snacks and guest appearances by members of The Rebel Legion* and The 501st Legion*, who wore authentic costumes of familiar Star Wars movie characters. (*Both organizations bring together Star Wars costume enthusiasts who give back to communities through costumed charity and volunteer work.)

WECA's winning spellers include Nelson Johnston, Nick Johnson, Susan Johnson, and Emily Johnson. After a spell-off with the Elm City Middle School team, they won by correctly spelling the word gnathonic, which means "characteristic of one that courts favor by a cringing or overly flattering manner".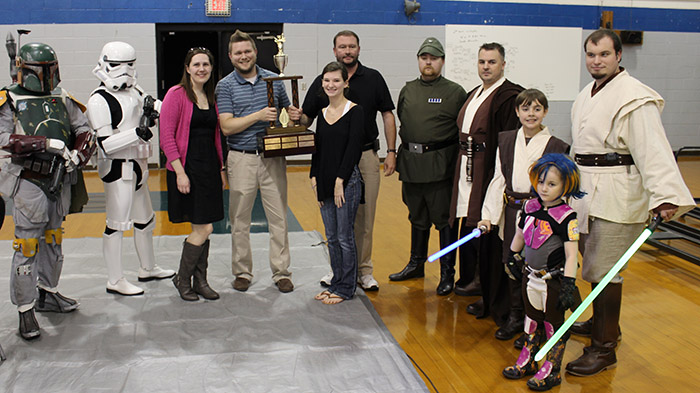 Guests in authentic Star Wars costumes flank the winning WECA spelling team
BB&T's team won the "Costume Award" for best representation of the Star Wars theme. Team members are Erin Vertin, Gayle Helm, Teresa Winstead, and Lauren Anderson. The Wide-Awake Kiwanis Club team received prizes for the "Best Star Wars Table Decorations". Team members are Bill Stewart, Corbett Davis, Black Godwin, and Robert Rountree.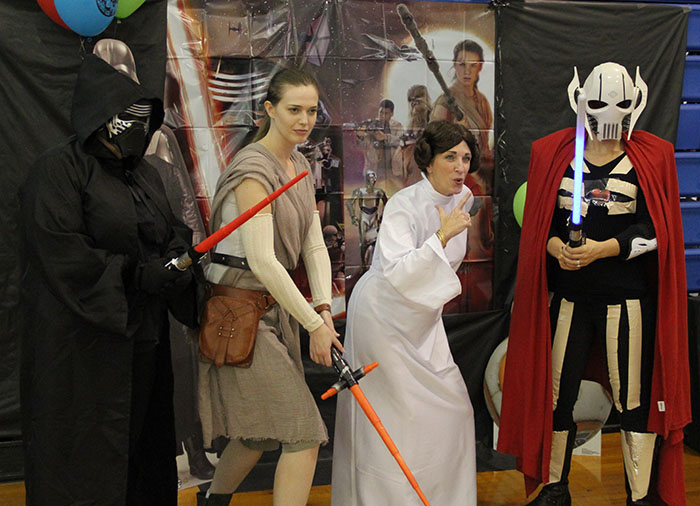 BB&T team wins Costume Award
Two teams won "Spirit Awards" for their enthusiasm and good sportsmanship. Beddingfield's team members are Karen Pike, Amber Godwin, Jennifer Polner, and Rachel Barlow. Chick-fil-A's team members are Steve Peterson, Mary Wahl, Cameron Koenig, and Shaq Troupe.
Proceeds of more than $12,000 will help WEP to provide grants to classrooms and other resources to benefit students and teachers.
More photos from the Bee