The twins from Lucama, both seniors at Hunt High School, are among seven Wilson County Schools students participating for the next eight weeks in the Career Health Connections Program where prospective health care professionals get an up-close look at a variety of health care occupations at Carolina Family Health Centers and Wilson Medical Center.
Wilson Education Partnership and the Area Health Education Center for Area L organized the program.
"It's a good opportunity for me because I want to go into the medical field," Brittney said. "I feel like this will open some doors to me to get to my dream. I want to be a doctor, a neurosurgeon. In my family, we come from a long line of people in the medical field. My mom would always come home and talk about being a nurse and being in the ER. I just fell in love with the human body and wanting to learn more about medicine."
Bethany Peterson wants to be a nurse.
"I like helping people, taking care of them and making them feel better. I have always been a helpful person and always wanting to make people happy and care for them," Bethany said. "If nursing is not for me, it will help me see that. I can always do something else in the medical field other than that. It will give me more options to pick."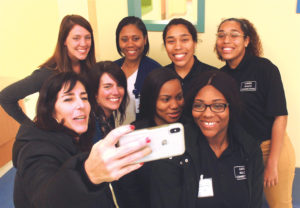 Robin Williams, executive director of the Wilson Education Partnership, said this is the program's first year.
"It is a program that has been structured to get students into some of these facilities to have some one-on-one experiences in certain areas," Williams said. "There is no other program like it in Wilson. We pick nine students each semester. We only have seven this year. The goal is to have three from each high school. Each must be a junior or a senior."
Students will spend two hours each week over an eight-week span looking over the shoulders of a variety of health care professionals.
"This program would not be possible without our partnership with Area L AHEC and President Debby Futrell, Carolina Family Health Centers and CEO Laura Owens and Wilson Medical Center COO Preston Callison, who is also a WEP board member," Williams said.
Futrell said Area L AHEC is an area health education center that's been working to develop the health care workforce for more than 40 years.
"Having high school students exposed to careers in health care will hopefully get them interested in a health care profession," Futrell said. "It benefits the students because it gets them some exposure to a variety of health care professionals. A lot of times, all they know is wanting to be a nurse, a doctor or a pharmacist. This actually exposes them to a variety of different types of health workers, social workers, physical therapists and just a larger group."
Futrell said it's also beneficial to the clinic and the hospital.
"If we can get more students interested in those health careers, then it helps their workforce development down the road so that they hopefully can then go and recruit some of those folks to come back and work in those facilities," Futrell said.
Owens said the program's mission is twofold.
"I am a product of being a student at this institution," Owens said. "It exposed me to a potential profession, so that's what we are doing with students. It also exposes students to federally qualified health centers, which Carolina Family Health Centers is. I think it is an important opportunity for a lot of organizations to collaborate to expose youngsters to a potential health care career path so that we can continue to foster excitement around health care and then future leaders in that group as well."
Callison said the program is a continuation of a successful one-day event last year at Wilson Medical Center.
"It is more of an opportunity for them to learn about opportunities in health care that aren't just the traditional careers like being a doctor or a nurse," Callison said. "This gives the students the opportunity to come in for a few hours each week over eight weeks in partnership with Carolinas Family Health Clinic here in Wilson and give them a broad spectrum of things that we do in health care and how we provide for our patients."
Callison said students get an opportunity to speak with staff about their backgrounds and the educational tracks they followed to prepare them for their jobs.
JaKia Lucas, a Beddingfield High School senior, said the program will help her decide which route to take.
"I want to become a nurse and then I plan on staying just a regular nurse but am stuck in between the two, so I really don't know yet," Lucas said.
Shannon Braswell, another Beddingfield senior, is participating to see if this is a field she would be interested in.
"I want to be an RN, but you never know what other opportunities are out there," Braswell said.
Other participants include Colin Bateman from Fike, Jasmine Salazar from Beddingfield and Rachel Chavez from Hunt.
Career Health Connections is an application-based program, so students are chosen based on academics and where they are in their journey.
"We are trying to get them to build relationships with local industry in Wilson, so if they have questions about what field they want to go into or paperwork in addition to what the counselors help them with, they are going to make some relationships here at thee two facilities, the doctors and nurses that they work with," Williams said. "The other thing is they are going to get to know what different entities in the health care field would give them opportunity. I think many people think the health care industry is either nurse or doctor, but there is so much more. They are going together to see so much more."