By Drew C. Wilson
Times Staff Writer
Nahuel Mujica's ears perked right up.
"Beyonce landed here? Whaaaaaa?"
Mujica, a 16-year-old Air Force Junior ROTC member from Hunt High School, was one of about 150 students from Wilson County Schools who participated in the Aviation Careers Expo at the Rocky Mount-Wilson Airport on Wednesday.
Major air carriers don't typically send large airliners onto the airport's 7,200-foot runway, but still.
"It's a small town," Mujica said. "If Beyonce landed here, it's a pretty decent-sized airport, and it's a pretty big deal," said Mujica.
Much of the air traffic is in Learjets and Cessna Citation corporate jets and smaller private aircraft.
"I haven't seen Beyonce, but I have seen several celebrities coming in and out of here," said Brian Helms, the airport customer service representative and firefighter. "Hank Williams Jr. came in and out of here, and Martha Stewart and Jack Hanna. A lot of NASCAR drivers come in. The Carolina Panthers come in every once in a while."
Celebrities aside, Helms was pretty popular when he invited students into the cab of the airport's aircraft rescue firefighting truck during the tour of the facilities.
"It's good for them to come out and see what's going on," said Helms, who has worked at the airport for the last 20 years.
The fire-fighting facility was one of several stops students from Hunt, Fike and Beddingfield high schools made during the aviation expo.
"I am here to learn what I want to become when I get out of high school," said Mikia Darden, a sophomore at Fike.
Darden said she was impressed with two medevac helicopters from WakeMed and EastCare that were part of the day's stops.
"I learned a lot today, and I want to continue with my plan to go to college" Darden said.
Darden plans to join the Air Force.
"When I graduate I want to go straight in," Darden said. "I want to go to training, and I also want to go to school to do this. I want to do my three years and fly in an airplane and help people. I want to fly and learn to do all of the medical work and basically just help people."
Mya Batts, a senior at Fike, didn't know that one job on a medevac helicopter was that of a nurse.
"I thought about being a nurse in the Air Force. I didn't know nurses worked on a helicopter," Batts said. "It's cool. I'll have to do some more research on it. Being a pilot sounds fun too."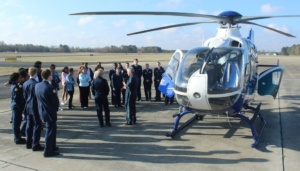 Isaiah Proctor, who has been in JROTC for three years, got to sit in the pilot's seat of one of the helicopters and learn a few things from pilot Bobby Hammond of WakeMed Critical Care Services.
"I got a lot of information about how the aircraft moves different than an airplane, the way yaw and pitch works," Proctor said. "We talked about the flame-retardant suits and how it gets hot in there and how the air conditioning works in there, how the radio works and how they talk to different dispatchers."
At one point, Proctor put on the flight helmet.
"It was kind of tight. You could barely hear in it," Proctor said. "The visors were kind of confusing because there were two of them."
Proctor, a senior, plans to enter the Army and become a combat medic.
Students heard about jobs in the airport terminal building, mechanic and support work around the airport and also paid a visit to the Civil Air Patrol.
Mujica is interested in joining the Air Force and wants to make a career as a drone pilot.
"Basically, I have always liked the Air Force because I grew up in a military family so I have military roots, and I want to continue that in my generation," Mujica said.
Lt. Col. Steve Mzyc, JROTC instructor at Fike, said the expo was originally supposed to have been held in the fall, but Hurricane Matthew intervened.
Airport administration, Mzyc said, deserves great thanks for hosting the event.
"The point was to find out what careers are like working at an airport," Mzyc said, "There's medical and a military component of it as well."
Planning for the event actually started more than a year ago, according to Martha Vick, executive director of the Wilson Education Partnership, organizer of the event.
"The airport manager called me about the opportunity of exposing some of our high school kids to aviation careers," Vick said. "This was an opportunity to bring them to a hands-on location and meet real people working in real jobs."
Students from the health science, auto technology and television production programs also participated with the JROTC members.
"Part of it is an awareness," Vick said. "They are taking a look at careers, opportunities and finding out what jobs in the aviation industry look like."
Students learned what kinds of school work and certifications would be necessary for the jobs and what kinds of experience would be required.
"They are talking about all of things that lead into what it is like to eventually get a job, not just in aviation, but in any field," Vick said. "A lot of these skills cross over into any kind of career search."